About us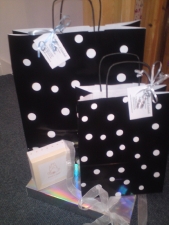 We are now 10 years old and firmly established as the ''place to go'' for Exclusive 'Designer Kids' Clothing and new baby gifts!
We ''promise'' exceptional quality guaranteed across all of our products,at price ranges that appeal to all pockets.
You will always find our Customer service is of the highest standard and we 'promise' you our full attention at all times.
Whether you need advice or guidance or just simply want us to 'make up your mind' for you, we 'promise' an abundance of ''experience'' is on hand, to ensure your visit is both enjoyable and successful!
We take great pleasure in gift wrapping all purchases to perfection! Presented in our 'new look' Polka Dot bags with ribbon and card - this service 'promises' to delight!